Wine
THE OYSTER WINE HALL OF FAME
Contrary to popular belief, oysters and wine are not always a natural combo. They can, in fact, be very bad together, when oysters awaken a sourness or tannic quality in the wine.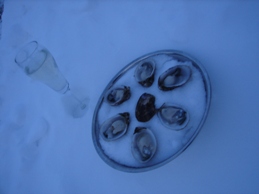 When they are good together, however, they can be very, very good, letting you slip into that glowing envelope of happiness created by great food & wine moments. A few of my favorites:
Bonny Doon Albarino (Ca' del Solo Estate Vineyard)
Spectacular wine with eastern or Belon oysters, thanks to its flat, stony, intense minerality. Smells like water running over river stones. Its minerality is strangely reminiscent of Riesling, until one realizes that Alba-rino means "from the Rhine" in Spanish. Albarino is the Spanish grape with the strange metaphysical connection to Germany. It combines Riesling's slate-and-apple purity with a Mediterranean kumquat zing. Great with strongly mineral or metallic oysters. Grown completely biodynamically, it is very focused and very low in sulfites.
Bonny Doon Muscat
One of the great oyster wines I ever had was a Moscato Giallo from Italy's Alto Aldige, knocked back with a bundle of bivalves with Peter Hoffman at Savoy in Soho. Since then, I'm always on the search for Moscato Giallo, a varietal virtually impossible to find in this country. Thank god for Randall Grahm and his taste for obscure Italian varietals. Moscato Giallo is now one of the four grapes being grown biodynamically at his Ca' del Solo vineyard in Soledad, California. It has aromatics like no other varietal, apricots and mandarin blossoms that leap out of the glass to meet you, yet it surprises with a nearly dry finish, owing to plenty of acidity. The muskmelon nose makes it screamingly good with Kumamotos, and pretty damn good with eastern oysters (I had it with some Colonial Cocktails from the Johns River in South Bristol, Maine, one of the fruitiest eastern oysters I know)—though, truth be told, it is even better with prosciutto, where the fruitiness spirals into sublimity.
Guy Bossard Clos de Briords (Muscadet)
A Muscadet Sevre et Maine made biodynamically using seaweed fertilizer, which gives an extra hit of salt and chalk. Muscadet is about as lean as wine gets. It makes Kate Moss look fat. This knife-edge quality allows it to stand up to the umami in oysters, caviar, and other foods that make most wines tremble.
Boulay (Sancerre)
Boulay is in the Chavignol area of Sancerre, which many argue should be a separate appellation, because Chavignol has a chalky soil profile more akin to Chablis than the Loire Valley. Indeed, in this wine, all the usual Sancerre touchstones—the grassiness, the herbs, the zing–have receded (no doubt because of the age–this one was 12 years old when I tasted it), leaving behind a pure, ringing note of gunflint that holds indefinitely, like a zen bell being struck.
Chateau La Louviere
Serious white Bordeaux from the Pessac-Leognan appellation of Graves. The Semillon gives the wine a viscosity and body that stands up beautifully to oysters in a way that most pure Sauvignon Blancs do not. And the artfully handled oak doesn't interfere like cheaper oak techniques do.
The Crossings Pinot Noir
Please do not adjust your screen. Yes, that says Pinot Noir. I have thrice had the pleasure of pairing this superb Pinot Noir from New Zealand's Awatere Valley (a subsection of the Marlborough region with more intense wines) with Olympia oysters. The wine is semi-Burgundian—lean, racy, and elegant—and it brings out the porcini in the oysters, and vice versa. This pairing may change your life.
Kenwood Reserve Sauvignon Blanc
Puts the fumé back in Fumé Blanc (the name Robert Mondavi coined for Sauvignon Blanc back in the 1960s, nodding to Pouilly-Fumé, the Loire Valley Sauvignon Blanc). Kenwood beautifully captures that smoky cap-gun note sadly missing from most Pouilly-Fumé, and marries it to the gooseberry Sauvignon Blanc scents more common in California. Absolutely great with Kumamotos and Pacifics, and even passable with eastern oysters.
Lieb Cellars Pinot Blanc
From the nice fork of Long Island Sound, Lieb Cellars has been hanging their hat on Pinot Blanc for twenty years now, and they've got it down. Elegant, almost water-white, stripped clean of artifice, this is the wine to impress your Alsatian friends when they visit. Highly mineral, with notes of shell, green apple, and star fruit, this is kind of the North Fork counterpart to Muscadet. Because it is grown right in the heart of New York's best oyster grounds, I tend to pair it with Northeast oysters, where its gum-tingling acidity (well beyond anything you'll find on the west coast) blasts the saline off your tongue. It's a triumph of terroir…and yet…I find that it's even better with west coast oysters, which bring out its citrus side. Go figure.
Lopez de Heredia Vina Gravonia
An amazing, deeply traditional white Rioja (100% Viura grapes) that breaks all the rules. Aged for years in oak barrels, it develops a complex, walnutty, herbal, honey flavor, like a bone-dry Ricola cough drop. It will make you rethink what an oyster wine should be. Read more here.
Mar de Frades Albarinho
Not your typical Albarinho. Most are like Chardonnay without the sugar cookie, and I love them for it, but I have a suspicion that Mar de Frades is what Albarinho was like before they learned to manipulate it for the American palate. Capricious, strangely vegetal, it doesn't particularly want to be liked. Most exciting, it has a green pepper or green tomato note (possibly even green potato skin; solonaceae in any case; you get this in Cabernet Franc sometimes—a sign of unripeness, yet often a tasty one—and in Cabernet Sauvignon, where it's not so good) that I've occasionally noted in oysters from Long Island Sound and Cape Cod Bay—the natural matches for this invigorating wine.
Sauvion Sancerre
Has the classic, grassy gooseberry notes and vegetal edge of Sauvignon Blanc without the tiki bar flavors that mar so many cheap New World SBs. A classic French oyster wine for virginicas or Pacifics.
Serveaux Blanc de Noirs Champagne
Champagne is the can't-go-wrong choice with oysters. Those bubbles scour the palate and prevent any fishy molecules from taking up permanent residence there, and, famously, the prickly acidity makes you look forward to more food in general. My standard recommendation is to opt for Blanc de Blanc Champagne (from 100% Chardonnay grapes) because it tends to be light and zingy, more tart and appley than yeasty. But show me a generalization and I'll show you an exception to the rule. In this case, the exception is Serveaux, far and away the best Champagne I've ever tasted. Serveaux, which is very hard to find but worth trying, is one of those exceptionally rare Champagnes made from 100% Pinot Meunier. What is Pinot Meunier? You ask (as I once did). It's the mysterious third grape of Champagne, heftier than Chardonnay but not as buxom as Pinot Noir, and I'm beginning to think it's superior to either (at least in the case of Champagne). It usually gets added as a small percentage in the mix. After tasting Serveaux,  can't understand why. It's spectacular, full of citrus peel perfume and croissant-like buttery depth, and it makes all oysters taste noble. Find some!
Tiara Sauvignon Blanc
What most people call "grapefruit" or "kiwi" in Sauvignon Blancs is often closer to guava, however, most people wouldn't know a guava from an iguana, so they never think to use it in their tasting notes. (Real guava, it should be pointed out, is far more acid than the guava juice abominations found in various stores.) Anyway, sometimes a big burst of sour guava is just what you want with oysters–and it's a reminder of one of my rules, which is that relatively simple wines are often the best match with oysters. Too tropical for eastern oysters, it was ideal with some Totten Inlets.
Vinho Verde
Vinho Verde, that odd Portuguese wine that is Albarinho's less respectable cousin, always has a weird whiff of stale soda water to it. (From the prickle of carbonation added, I suspect. Perrier has this also.) It's not a bad thing; just noticeable. And many oysters also have this—something to do with the calcium carbonate they sequester, perhaps? Anyway, it's a simple combo that works, and makes you feel kinda Iberian.
X'armant 2007 Txakolina
Txakolina (say "SHOCK-a-leena") is a crisp and tangy Basque wine made with indigenous grapes that screams out for shellfish. Very weird, very good. X'armant is the best (okay, the only) Txakolina I know. Clams, oysters, mussels—it was made for invertebrates.
OTHER DRINKS
Sho Chiku Bai Nama Sake
An organic sake brewed by Takara Sake in Berkeley, is the best U.S. sake with oysters, and one of the best drinks with oysters period. Its extremely smooth, full-bodied, and fruity flavor screams out for Kumamotos or a sweet Pacific oyster like a Hog Island Sweetwater, but it also pairs well with salty oysters (for the same reasons that sake works with soy sauce).
Muscadet Martini
A splash of tongue-tingling Muscadet in your martini instead of vermouth, a twist of lemon, and a spoonful of snow (okay, it's a seasonal drink) and you have the perfect Winter Solstice, oyster-friendly martini. Cheers!
Cucumber Hendrick Martini
If you're feeling a bit more traditional, a dry Hendrick Martini is the way to go–Hendrick being the gin that pairs best with raw oysters. That's because cucumber is one of the botanicals used to create the Hendrick flavor, and cucumber is also the most distinct note in Pacific oysters, especially those from Hood Canal (Baywater Sweets and Hama Hamas are my favorites) and Penn Cove. In lieu of an olive, drop a slice of cucumber in the martini for intrigue.
Don't forget Scotch. It's a whole different experience, and may just turn you into a whole different person. Here are my tasting notes.