NC Oyster Dinner 2017
Mar 27, 2017
Just back from a week in North Carolina, which is gunning for Virginia as the leader of East Coast oysters, and from what I've seen, might just make it. Exhibit A: Coastal Provisions, in Southern Shores, where Daniel Lewis has been pushing the oyster thing as hard as anybody in the country the past few years. Here's his latest masterpiece: 7 courses of bivalve bliss. The rundown: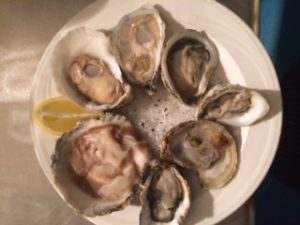 Oysters of NC and the world: Clockwise from the lemon: Chadwick Creek (Bay River, NC); Devil Shoal (Ocracoke, NC); Cedar Island Select (Cedar Island, NC); Tangier Island (Tangier Island, VA); Pink Ribbon (Long Island Sound, CT); Kumamoto (Chapman Cove, WA); Belon (ME).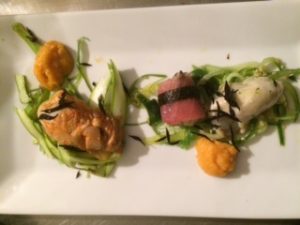 Crudo: Ponzu pickled Kumamoto with ahi nigiri; Hogwashed Tangier Island; Kim Chi Chadwick Creek with gingered asparagus, cucumber, uni, and seaweed.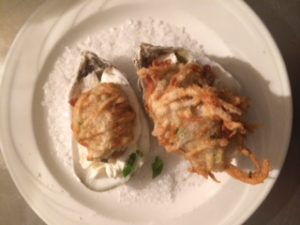 Fried: Potato-crusted devil-shoal oyster with horseradish whipped cream.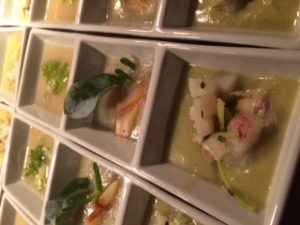 Stewed: Three ways: Potato leek; oyster plant (vegan, in fact); Celery of all sorts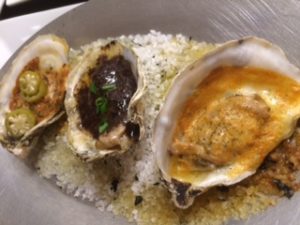 Baked: Pamlico Sound oysters with three butters: Uni & sansho pepper; black garlic; New Orleans BBQ
Pot Pie: Pamlico Sound oysters, sweetbreads, mushrooms, pork belly, brown butter, kataifi crust
Steak & Frites: Prime NY strip with housemade oyster sauce, and fingerling fries with oyster remoulade.
All in all, the clearest sign yet that NC oysters (and oyster culture) have arrived. Bravo! (And huge thanks to Samantha Buyskes for the photos and the food!)
« PREVIOUS: VORF–a word every oysterhead should know