Oyster Ideas for Thanksgiving
Nov 20, 2018
Old Man Winter grabbed the East Coast early this year and squeezed hard, and doesn't seem to be letting go. This is great news for (A) The skiing industry; (B) The oil industry; (C) The oyster industry; (D) All of the above. Correct answer is D. When the waters turn cold, oysters start fattening themselves with rich, sweet, savory compounds to survive the lean months. They are at their peak of flavor between now and New Year's. As I've pointed out before, the French eat almost all their oysters in December, and they've been eating oysters much, much longer than you have. Don't question their cultural kudos. Just do it.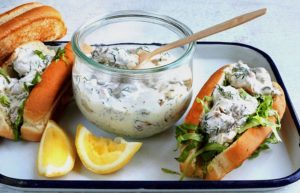 Oyster Rolls for Thanksgiving
Adrienne Anderson (oyster stylist extraordinaire) did a stint developing recipes for Hama Hama Oyster Company last year, and it stands as one of the pinnacles of oyster cuisine. The Oyster Rolls (think lobster rolls with bivalves) are how I like to get Thanksgiving Day rolling (especially good with the early football game). They require a supply of top-notch shucked oysters, of which Hama Hamas are the cream of the crop.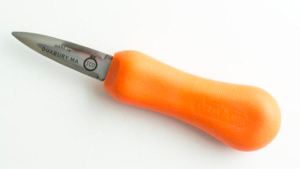 Knives for Thanksgiving
…or for a nifty stocking stuffer for the oyster fanatic in your life: Oyster knives made with recycled plastic collected from the beaches of Haiti. This joint venture between Island Creek Oyster Foundation, which has been working in Haiti for years, and R Murphy Knives (which was recently acquired by Dexter-Russell, which will continue the brand) pays locals in Haiti to collect plastic off their beaches, pelletizes that plastic, and turns it into oyster-knife handles. Lemons into lemonade!
More Fun Stuff
Need more ideas? Oyster goddess Julie Qiu salts up the holidays with her Oyster Gift Giving Guide.
« PREVIOUS: The Royal Oysterbaums
» NEXT: Oyster Gift Ideas 2018