Oyster Gift Ideas 2018
Dec 05, 2018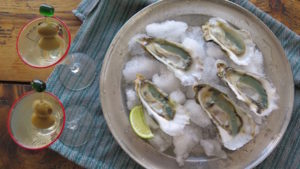 Got Green-Gills?
Welcome to winter. Have you had your Green Gills yet? In the Marenne-Oleron region of France, oyster's gills turn green in winter when they feed on a particular type of phytoplankton. That plankton also grows naturally on the East Coast of the U.S. It makes the oysters crazy delicious. And it's starting to happen right now. Learn all about green gills on Oysterguide and in The Essential Oyster. Think of them as a multivitamin to keep you going through the dark months.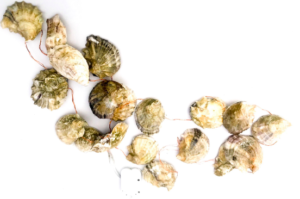 World's Brightest Oysters
You may have heard that oysters (being brainless, after all) can be a little dim, but not these oysters! The team at Real Oyster Cult upcycles their old shells (yes, washed) and turns them into a holiday showstopper with copper wiring and LEDs. Delivery takes two weeks, so if you want them for Christmas, get on it right now.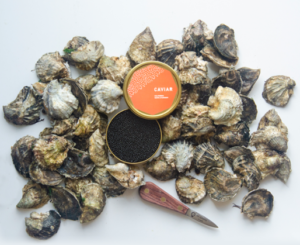 An Umami Double Shot
Island Creek just announced it will be shipping its wildly popular Block Party package right through New Year's Eve: 100 oysters plus 250g of caviar. If you're an umami hound, and you can't get enough caviar and oysters together, this one's for you, as the price is less than half what you'd normally pay. If you're not, well, they'll ship it to anyone else you like, too.
New Online Oyster Marketplace
OysteRater now has far more oysters available for direct shipment than ever before, thanks to the additions of The Oyster Common, a new service that helps small farms handle online orders, Fedex shipments, and other backend challenges. They've already signed up Glidden Point, Johns River, Eros, and Peconic Gold, with more to come. We've said it before, and we'll say it again: There's never been a better time to be an oyster eater in America!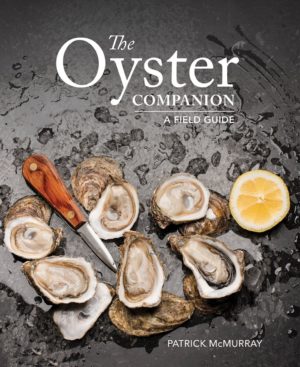 Books for the Bookish
The already brimming cup of oyster literature now overfloweth with two new additions: The Oyster Companion, by Canadian oyster legend Patrick McMurray, and A High Low Tide: The Revival of a Southern Oyster, by Andre Gallant.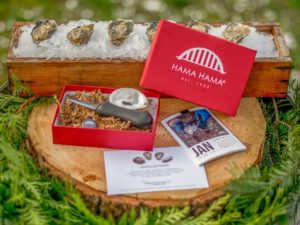 Oystergram
Here's a brilliant idea from Hama Hama. Send someone special an Oystergram and they'll receive a handsome package with a shucking knife, a shell magnet, a desk calendar with sizzling Hama shots, a pin, a sticker, and a voucher for four-dozen oysters to be shipped at the recipient's convenience. That old oysters-rotting-under-the-Christmas-tree problem, solved at last!
Billion Oyster Progress
A century ago, New York Harbor was lifeless, thanks to decades of chemicals and sewage. That was in stark contrast to the New York of the 1600s, which contained 220,000 acres of oyster reefs. Now NYC is again headed in the right direction, thanks to the astounding work of the Billion Oyster Project, which has deputized local schools, restaurants, and organizations in the push to restore both water quality and living reefs. Considering giving to the Billion Oyster Project this season. We do.
« PREVIOUS: Oyster Ideas for Thanksgiving
» NEXT: Who Has Had Croatian Oysters?