Peconic Paradise
May 12, 2015
If you happen to be heading for the North Fork of Long Island this summer, you are in luck, because the best thing to happen to Peconic Bay oyster lovers since the Shelter Island Oyster Company recently put out its shingle on the Greenport waterfront: Little Creek Oysters.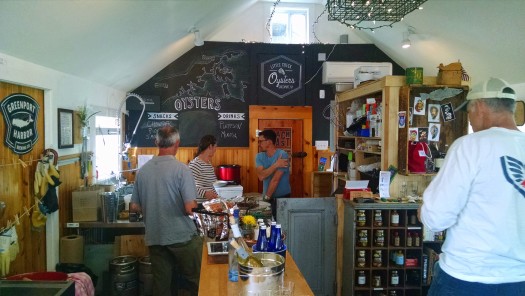 Owners Ian Wile and Rosalie Rung have been farming Little Creek Oysters in Peconic Bay for a few years; now they've taken over the old Bait & Tackle shop (and former wheelhouse on a whaling ship back in the 1880s) and turned it into a showcase for the burgeoning Peconic Bay oyster scene. On a recent visit, I sampled Peconic Golds, Peconic Pearls, Montauk Pearls, Shinnecocks, Lucky 13s, Lazy Mermaids, and Oysterponds, along with several stellar North Fork white wines.
The space is gorgeous, but even more gorgeous is the situation outside: Ian & Rosalie will hand you your oysters in the shell, along with a knife and something to imbibe, and let you shuck your own on the picnic tables while the waterfront passes by. It's what everybody wants, and what's been basically impossible to find on the east coast. (They will also shuck your oysters for you if you prefer.) The oysters coming out of Peconic Bay have taken great strides, and they are all impressively different from each other, from the deep-cupped Peconic Golds to the pearly white Lucky 13s (from Great South Bay, not Peconic Bay), but the quality level is consistently high. Now through June, they are nice and plump. There are now many places on the east end to get a taste of the Peconic, but none as casually elegant as Little Creek.
If you've had a chance to taste any of these oysters, please let us know what you thought at Oysterater.com.
And don't forget what Oscar the Oyster says: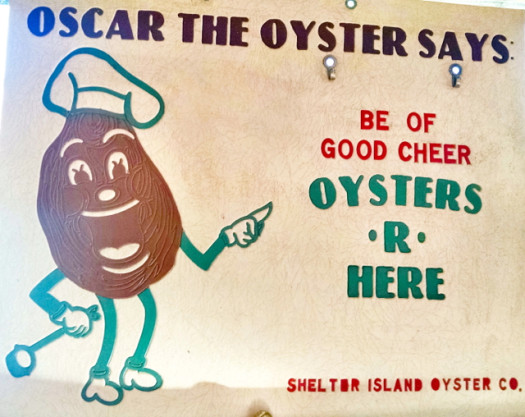 « PREVIOUS: OysteRater is Live!