Taylor Shellfish Nighttime Oyster Excursion 1/8 & 2/7
Jan 02, 2013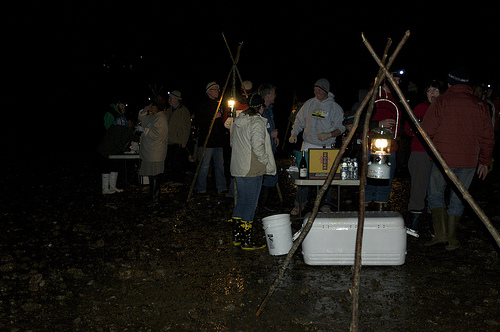 Taylor Shellfish's stupendous late-night visits to their fabled oyster beds, where you can shuck your own oysters by headlamp, as well as experience their tidal-flats pop-up oyster bars, are back on two upcoming dates: Jan 8 and Feb 7. I know of nothing quite like it, and I encourage all to go. Here's the press release:
Dec. 28. 2012
For Immediate Release
Contact: Jon Rowley 206-963-5959 [email protected]
Taylor Shellfish Offers Popular Low Tide "Walrus & Carpenter Picnics" Jan 8 and Feb 7 to Support Puget Sound Restoration Fund
" O Oysters come and walk with us, a pleasant talk, a pleasant walk,
 upon the briny beach…"
Shelton: Taylor Shellfish Farms of Shelton WA is pleased to announce two winter nighttime low tide "Walrus & Carpenter Picnics* on their Totten Inlet oyster beds Jan 8 and Feb 7 in support of the Puget Sound Restoration Fund. The popular events are intended to provide the ultimate oyster-eating experience …one by which all subsequent oyster experiences will be judged. Lewis Carroll's, Walrus & Carpenter, a tale of how the Walrus & Carpenter lure the oysters for a "lovely walk, a lovely talk upon the briny beach" and then proceed  to eat every one, provided the inspiration.
Walruses & Carpenters depart on the Oyster Bus at 6:30 pm from Elliott's Oyster House, arriving back in Seattle before midnight. Why at night? The low minus tides in the winter are at night when oysters are naturally chilled to just the right temperature. The moon and lanterns on tripods light the way. With luck, the experience is invigorated occasionally with an icy gust of wind off the bay. Walruses & Carpenters are advised dress for warm and dry. To instill a sense of adventure, the Oyster Bus goes whatever the weather.
Participants can gather and shuck their own Olympias, Kumamotos, Pacifics and Virginicas right off the beach or get them from ace shuckers  at oyster bars set up around the beds. Shucking lessons are available. Winners of the Pacific Coast Oyster Wine Competition, an annual dating service for wines and oysters, are available to taste and compare at stations interspersed with the oyster bars. A low minus tide, moonlight, plump, chilled oysters just rousted from their beds, crisp chilled wines out of Reidel stemware and a bonfire to take away the chill provide, just the right mix of magic and madness.
Just before getting back on the bus, Xinh Dwelley, of Shelton's Xinh's Clam & Oyster House, serves everyone a hot bowl of her legendary oyster stew.
The $125 ticket for the once-in-a-lifetime oyster experience benefits the Puget Sound Restortation Fund.
*This event pre-dates, and is not affiliated with, the excellent Walrus & Carpenter restaurant.
Taylor Shellfish Farms is a fifth generation family-owned company producing Manila clams, Mediterranean mussels, geoduck, four species of oysters and seed for national and international markets.
###
« PREVIOUS: The Perfect Oyster (Video)
» NEXT: GCOB Oyster Happy Hour