The New Southern Oyster Bar
Dec 07, 2016
I recently returned from a two-week tour through the Southeast in support of my new oyster book. Tough work, but somebody had to do it. What a treat! The Southern oyster scene is transforming before our eyes as new cultivation techniques are introduced, on one end, and new oyster fans who want to taste the bounty of the entire region, not just their own backyard, spring up on the other, and the place where they intersect is a new kind of oyster bar very different from the traditional oyster bar.
Not that there was anything wrong with the traditional oyster bar, by which I might mean Casamento's in New Orleans or Boss Oyster in Apalachicola. These places serve their local, wild oyster, they serve it cheap, and they serve it with enthusiasm. What's not to like? Because when you've got the locallest, freshest oyster imaginable, why would you ever need to look elsewhere? Right?
Well, actually, wrong. Or maybe half right. I love sinking into a dozen local oysters with neither thought nor attitude. It's just beer, oyster, beer, oyster, until it's time to go home (or past time). Love it.
But sometimes you do want to think. You want oysters that have been raised that coax the best possible taste and texture from them, and you want to taste oysters from various southern growers and locales side by side, so you can start to get a deeper understanding of the nature of each place (and person), and you are willing to pay the surcharge for this privilege.
Not so long ago, you couldn't do it. Not in the South. In the North, for sure, on either coast, but the South had always maintained the tradition of the cheap, wild, local oyster, and no one was going to pony up $3 for a beautifully cultivated southern oyster from Somewhere Else.
Ancient past, my friends. I have seen the new breed of Southern oyster bar, and it's spectacular. In part, that's because the new breed of Southern oyster is spectacular, and in part it's because of the style of these new bars. They are classy and on-point, and yet they maintain that relaxed Southern style that has always been part of the draw (and that you never get up north). In other words, they are something new, and that's very exciting.
Let's start with The Ordinary, Mike Lata's former bank on King Street in Charleston. Houses in old bank, The Ordinary doesn't feel like your typical shoebox oyster bar. It feels stately. And the marble table in the front certainly made The Essential Oyster look classy; the colors set it off perfectly.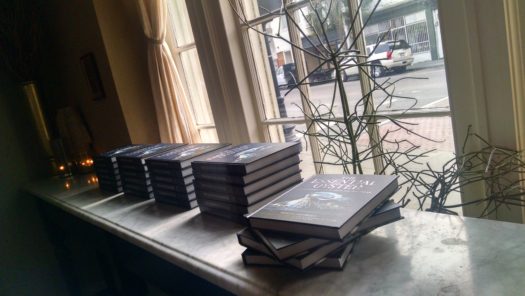 The oysters did, too. Having arrived ahead of the curve, The Ordinary locked down access to some of the South's best oysters long ago. It's the only place you'll find Frank Roberts's Phat Ladies (as well as Lady's Islands), and it often has Capers Blades in the house. On my recent visit, it also had Snake Islands, a great new wild oyster, as well as Cyrus Buffum, the soave gatherer of Snake Islands himself. (Look for Cyrus's oysters at The Ordinary and Leon's.) All these Lowcountry oysters share an amazing and distinctive stone-fruit finish that I crave when I can't get it (which is usually). There's also always a New England oyster in the house, in honor of Mike Lata's roots.
If there's one oyster bar that's been the gamechanger for the South, it's Decatur's Kimball House. Kimball House is all polished wood and polished service, and it takes oysters very, very seriously. Just look at this oyster list. It's insane.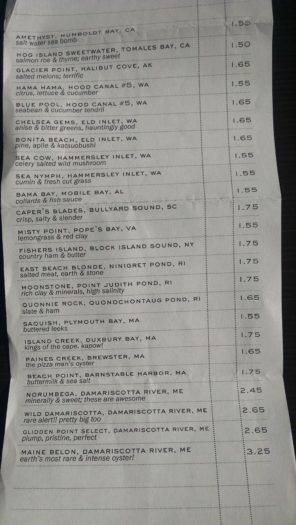 Best. Selection. Ever. Who ever thought they'd find Glacier Points, Hama Hamas, Capers Blades, Misty Points, Glidden Points, and Belons on the same list? Never been done before. Best descriptions, too. "salmon roe & thyme"; "cumin & fresh-cut grass"; "slate & ham"; that's hard to do. And have I mentioned that every shuck is freakishly perfect? Owner Bryan Rackley has raised the bar so high you're gonna need a new pole. Ditto for the cocktails, the absinthe list; and the full menu (special shout-out to the tartare). Kimball House would be the best oyster bar in any city in the world; it just happens to be in Atlanta.
New Orleans has always had more oyster bars (and oyster fun) per block than any other town, and just when you thought surely the saturation point had come, bam, a whole flock of new ones landed in the past year. Coals to Newcastle. Most places, both old and new, follow the classic model of doling out the oysters fast and cheap, sloppy and slippery, with mud and brine sliding over the bar and pooling around your beer. It's all good dirty fun, but the most interesting places are the ones celebrating the best Gulf oysters, not just the wild Louisiana stuff. Ryan Prewitt's dazzling Peche blew things up in the city a couple of years ago and continues to be the standard-bearer.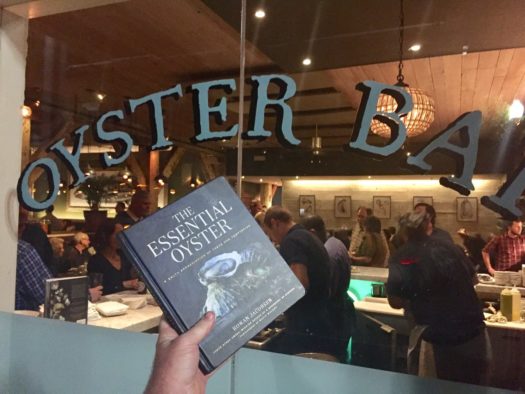 Appreciation to The Advocate's Ian McNulty for the pre-party shot. But Peche now has serious competition with the advent of Seaworthy (from the team that did Grand Banks, the schooner/bar moored on the Hudson River in NYC), in the new Ace Hotel on Carondelet Street. Gorgeous space and gorgeously shucked oysters with a nice mix of Alabama, Louisiana, and farther afield: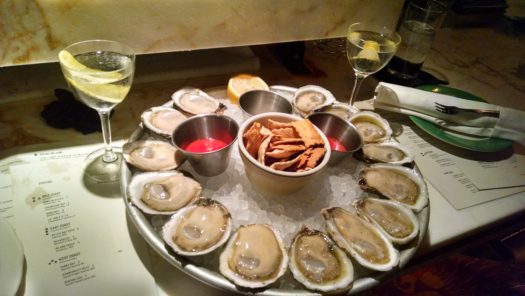 As you can see, the farmed oysters coming out of the Gulf right now are ridiculously plump. Just insanely succulent. Special mention for the Bama Bays, which are spilling out of their shells like Jabba the Hutt: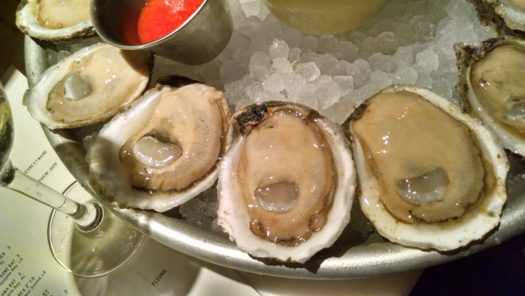 The fish ain't too shabby, either: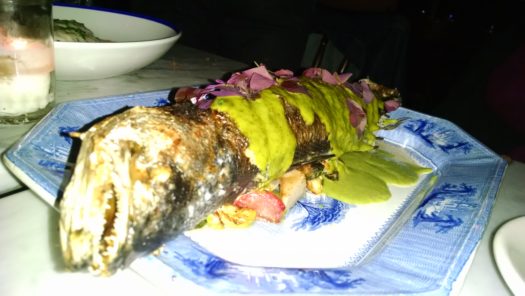 Actually, Chef Dan Causegrove nails pretty much everything. But don't take my word for it; New Orleans Magazine just named Seaworthy best seafood restaurant of the year.
We end our tour of the New Oyster South in Miami, which used to be an oyster backwater if there ever was one. Being a cosmopolitan city trapped on the furthest tip of a very strange state, Miami never got the oyster bar concept, neither the sleek style nor the Redneck Riviera kind. At long last, it has arrived on the oyster scene with the arrival of Mignonette right downtown. Mignonette gets kudos for having a proper logo.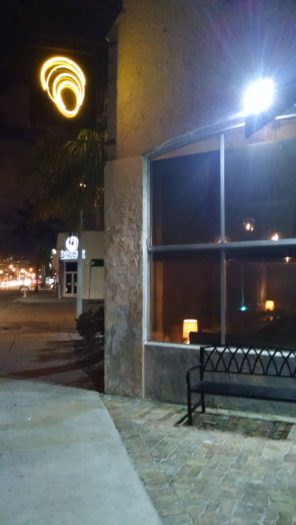 And even more kudos for carrying proper oysters, and for working directly with growers–unheard of in these parts. Double helping of kudos with sprinkles on top for having the largest oyster board ever seen.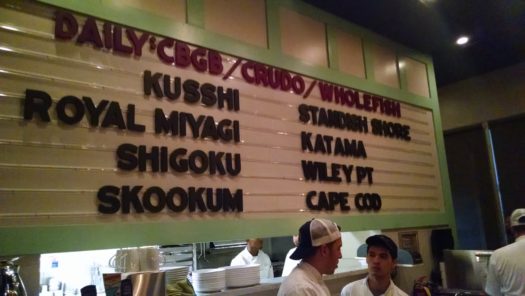 I never thought I'd see an oyster bar this cool, this earnest, and this friendly in Miami. The times they are a changin', and I'll say it again: There's never been a better time to be an oyster eater in America. And yes, that applies to all three coasts.
« PREVIOUS: Kickstarter Oyster Farm in East Hampton
» NEXT: A Visit to Moon Shoal oyster farm with America's Test Kitchen