Crab Slough Oysters from NC
Dec 31, 2013
Crab Slough is a legendary area for harvesting wild oysters near the south end of Roanoke Island, in North Carolina's Pamlico Sound:
It's near Oregon Inlet, the main break where Atlantic water funnels through the Outer Banks, and the lively currents produced by that geography makes for a level of wild oyster you rarely see. The action knocks the oysters around and forces them to cup up as if they were prime farmed oysters. Just check out the shape of these: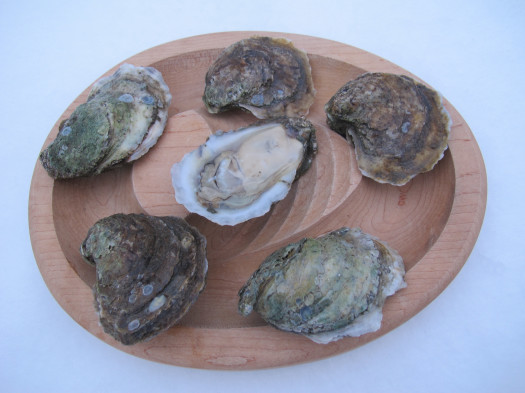 Besides the shape, the shells are STRONG, which you rarely see in Southeast oysters (which often grow too fast to thicken their shells). They are a joy to shuck, and a joy to eat–firm, a lovely balance between sweet and salty, with a buttery sweetcorn and asparagus finish (including asparagus's astringent notes). There are some nice clammy tannins. They don't taste unlike a razor clam, actually. All in all, an oyster worthy of any raw bar. But you won't find them there. They are a locally guarded treasure, and the season is just October to March, so look for them hard if you find yourself in eastern North Carolina this winter. Thanks to Dan Lewis of Coastal Provisions for cluing me in.
« PREVIOUS: Oysters for Life: $275