Mystics: World's Classiest Oyster?
Jan 02, 2014
So this is what an east coast oyster is supposed to look like but so rarely does: Strong, thick, greenish-white shell, prominent "coon's feet" ridges on the underside, and a scalloped, nearly round, Belon-like shape.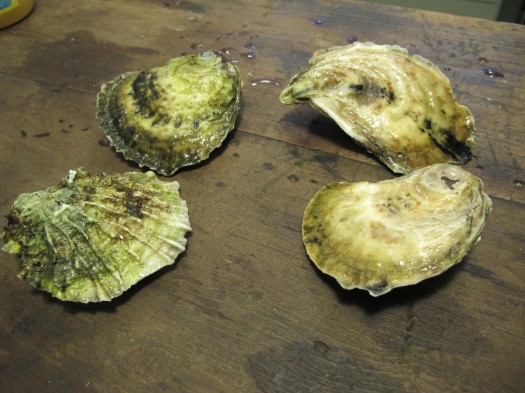 You can only get those specs when your oysters grow in a nice, flat delta sandbar, where the current really sluices over the oysters and beats them up, sandblasting the shells and grinding down their growth edge. Instead of getting leggy, they get round and deep, and the meat just fills the shells inside. Slower growth means, yes, it takes longer to grow them to market size, so expect to pay a bit extra, but the quality is so much better (especially in these days of the quick-grown, paper-thin-shell oyster) that it's well worth it. These particular stunners were grown by Steve Plant near the mouth of the Mystic River in Noank, Connecticut. The ones on the left were grown a little higher on the bar, so they get more of the scalloping, while the ones on the right were in deeper water and more protected. All have a great, balanced brine with a beautifully clean finish, and they are absolute joys to shuck. If only every grower would take the time to let his oysters reach their full potential.
« PREVIOUS: Crab Slough Oysters from NC