NC Oyster Revolution
Mar 21, 2014
For those who've been wondering why I've been referring to the Southeast as the slumbering giant of the oyster world, meet Dan Lewis:
Dan is chef and proprietor of Coastal Provisions, a market and oyster bar on North Carolina's breezy Outer Banks. Dan is a superb chef, and Coastal provisions would be an essential stop on any Outer Banks jaunt even if it didn't serve oysters, but Coastal Provisions does serve oysters. Serious oysters: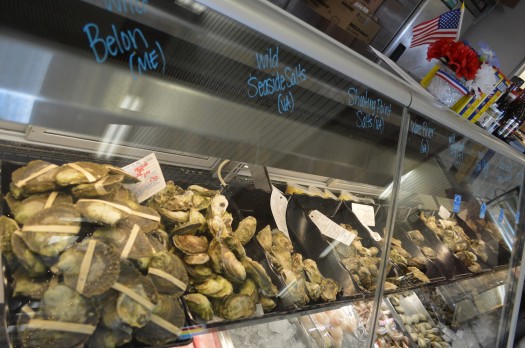 Do not adjust your picture; those really are wild Maine Belons, the first I've seen in a rawbar south of Grand Central Station. And, to balance out their extreme flavors, there were ultra-briny Katama Bays from Martha's Vineyard, Bluepoints from Long Island Sound, and a who's-who of Virginia oysters: Shooting Points, Seaside Salts, Lynnhavens, James Rivers, Chunus, Ware Rivers, and more. Even more impressive, the local NC oyster, Crab Slough, was on hand, along with its domesticated cousin, Bodie Island, grown just a few miles south, near Oregon Inlet, by this guy, Joey Daniels:
Joey and his family has been fishing out of Wanchese for generations, but a few months back Joey decided to start farming oysters, which he could harvest year-round, instead of the few months the wild season is open, and keep more folks in Wanchese working on the water. He is now the first oyster farmers in the northern Outer Banks, which, like the rest of the Southeast, has traditionally stuck to wild harvesting. My point is that things are changing FAST in Virginia, North Carolina, and South Carolina, and the Northeast should be shaking in its boots. The Southeast can grow oysters faster than the Northeast, and, as a quick glance at a map will tell you, it has an abundance of estuaries sporting rich, brackish water, high water quality, and low population density–perfect oyster criteria.
What it hasn't had is a culture of appreciation to match, say, Boston and New York. To be sure, there is strong oyster affinity here, but generally the appreciation has been for one's local oyster, which was often the only kind available. People in the Outer Banks love their Crab Slough oysters, and even prize the tiny pea crabs usually found inside–which them makes more sophisticated than most denizens of Gotham–but they never saw many oysters from out of state. Until now. What's amazing is that the Outer Banks is way, way off the beaten path, and until recently the only places where you'd see 6-12 varieties of oysters on the chalkboard were major cities. Expect to see them everywhere in the next few years, as more and more restarateurs catch on that their clientele will eat this up (literally). With guys like Dan Lewis, and Mike Lata at The Ordinary in Charleston, leading the charge, the Southeast is going to become a leader in both making oysters and making them disappear. Dan just offered a six-course oyster blowout as part of the Taste of the Beach festivities (menu below), and it sold out so fast he's thinking of upping it to two nights next year. Catch it if you can, and savor the taste of a cultural awakening.
Celebration of Oysters
Friday, March 14, 2014
Naked on the Half
A guided tour of oysters from various waters by oyster authority and author Rowan Jacobsen
Fred Loimer Gruner Veltliner 'Lois'
Oysters & Ice – Local Bodie Island Oysters with Shaved Ices: Pickled Ginger, Horseradish Lemon, & Hog Island Mignonette
Heidsieck Monopole Brut Champagne
Frito Chunu Oysters fried three ways:
Panko Crusted on Wasabi Mashed
Potato Crusted with Sour Cream & Onion
Cornmeal Crusted with Grits & Greens
Marques de Caceres Albarino 'Deusa Nai'
Oyster 'Chowder' with Tender
Smoked Pork Belly
Tiefenbrunner Chardonnay Alto Aldige
Braised Veal & Oyster Risotto
Fava Beans, Pancetta & Oyster Mushrooms
Santa Cristina Chianti Superiore
Steak with Oyster Sauce – our Prime NY Strip Steak with Savory House Oyster Sauce, Mashed Soybeans & Potatoes, Fried Scallion
Charles & Charles  Cabernet/Syrah (WA)
« PREVIOUS: Outer Banks Oyster Dinner Friday 3/14