Pepper Grove and Ladies Pass (Galveston Bay)
Mar 31, 2011
If Galveston Bay hasn't been on your list of primo oyster appellations, that needs to change. Last week I tasted oysters from two different reefs within Galveston Bay, Ladies Pass and Pepper Grove. Both were fantastic: Mouth-wateringly salty, sweet and chewy, with lingering flavors of asparagus and green bean and a strong umami sea taste on the back of the palate. Take a look: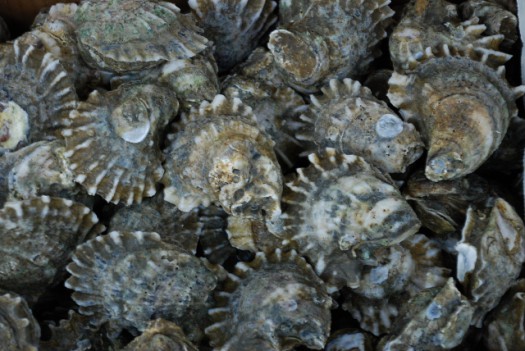 See that crinkled bill? That's the sign of an oyster grown in a high-salinity environment, and it guarantees a good hit of salt. These were twice as big and twice as firm as most East Coasters, which I guess is what you'd expect in a Texan. They were the antithesis of what you often get in a Gulf oyster, which is a soft texture and watered-down flavor–those oysters are coming from the wrong side of the Mississippi River Delta and have been sitting in coolers for way too long. These snappy Galveston bivalves proved that Gulf oysters from the right spot can compete with any in the country, and can certainly outsize them all (making them the best cooking oyster by far). These oysters will be appearing by name in a few Gulf Coast eateries this spring, and possibly quite a few more this fall. One place I know will be carrying them is Houston's Goode Company Seafood. Have you spotted them anywhere else? Please let us all know!
To download a PDF map of the oyster reefs of Galveston, click here.
« PREVIOUS: Monster Louisiana Oysters (Caminada Bay)