Pungoteague Creek
Nov 14, 2011
Here's a nice oyster from a nice part of the Chesapeake–the Eastern Shore of Virginia.
A lot of Chesapeake oysters (particularly those from the northern, Maryland half) can be lacking in the salt department. Pungoteague Creeks, due to their location, relatively close to the mouth of the Bay and on the eastern side, which has no large rivers, have a nice balanced salinity. Just enough, I'd say. Like most Chesapeake oysters, they have a light body, compared to their Northeast cousins, and a bit of a rusty, alkaline finish. They have good-looking shells, without the scarring that can mar many Chesapeake oysters, and a green-tinged shell that almost made them look Canadian.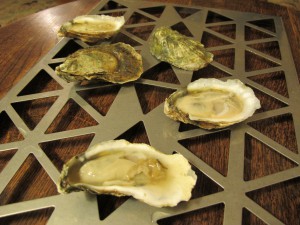 If you want to understand the essence of a Chesapeake oyster, Pungoteagues would be an excellent place to start. In recent months, that's become easy to do: They're on the menu at Hank's Oyster Bar in Alexandria, Ryleigh's Oyster in Baltimore, and Metropolitan Kitchen & Lounge in Annapolis, among other locations.
« PREVIOUS: Nonesuch Oysters from Maine
» NEXT: Oyster Stuffing Recipe