Nonesuch Oysters from Maine
Oct 31, 2011
Abigail Carroll has a lovely oyster coming from a very different part of Maine. A lot of Maine oysters hail from the rightly famous Damariscotta River, well north of Portland, but Abigail's Nonesuch oysters (named for nearby Nonesuch Point) grow in the Scarborough River south of Portland, in the midst of a nature conservancy.

View Untitled in a larger map
The oysters have the classic Maine brine, but with a notably different taste than Damariscotta, particularly on the finish, which has a nice bitter green olive component. The oysters are also beautiful to look at: green-tinged shells ringed with a pure snowy white for their last year of growth.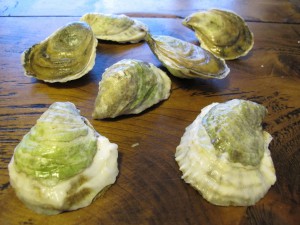 Abigail is also growing Belons–a heroic endeavor. Check out either one you find–or, preferably, half a dozen of each.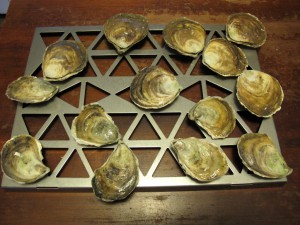 And what, you may ask, is that thing the oysters are sitting on? A Shellfish Griller, of course. (Not that I grilled them. Please.)
« PREVIOUS: Revolutionary Way to Serve Oysters
» NEXT: Pungoteague Creek