The Aw Shucks Oyster Opener
Oct 31, 2011
Something about oysters–and the challenge of opening them–catalyzes the creative juices in people. You'd think that several thousand years of oyster appreciation would have been long enough for everyone to settle on one best way to do the job, but quite the opposite has happened. There are as many ways to open an oyster and present it to your guests as there are fish in the sea. I've previously written about the Halfsheller, the Oyster drill, the Shellfish Griller, and oyster knives, but here's yet another way to do the deed: The Aw Shucks, invented by Larry Schneider of King Eider's Pub in Damariscotta, Maine (a town that knows a thing or two about oysters).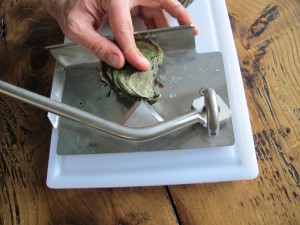 This sucker is for industrial applications; it can crank through a lot of oysters with minimal risk of injury, and minimal requirement of skill, though it does take a little getting used to.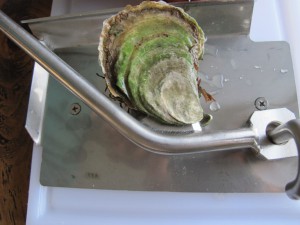 Here's a video of the Aw Shucks in action. Note that you still need to sever the adductor muscle with a regular paring knife after you've opened the shell.
« PREVIOUS: Belons from Maine