Waterbar: Live the Cousteau Fantasy
May 16, 2011
I've previously written about the glorious feeling of diving into a martini and a tray of superfresh oysters, forgetting about the rest of the world, and feeling as if you're in some sort of Jacques Cousteau special. That feeling came back to me this week at Waterbar, San Francisco's swanky, spanky oyster bar.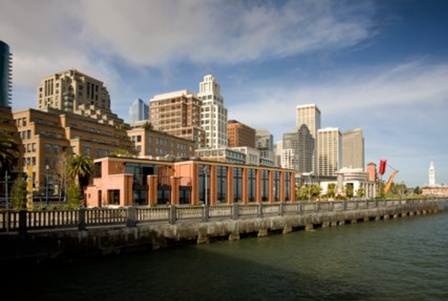 The spot is ridiculous: right on the waterfront, virtually beneath the Bay Bridge, the lights of which come reflecting off the chop at you. Floor-to-ceiling glass windows and towering, cylindrical fish tanks seal the feeling that you are somehow part of the bay.
None of that would matter, of course, if the oysters weren't terrific. No problem there. Greg, the thinking-man's shucker, is a consummate pro, the oysters were all juicy and snappy (i.e., fresh), and the selection is easily the most diverse on the west coast. Shigoku, Evening Cove, Barnstable, Preston Point, Quivet Neck, Olympias, Lady Chatterley, French Kiss, Drake's Bay, Totten Inlet, Miyagi, Moonstone…there were more…I can't remember… it was late. They are clearly going to a great deal of effort to source interesting and unusual varieties from the east coast as well as the west.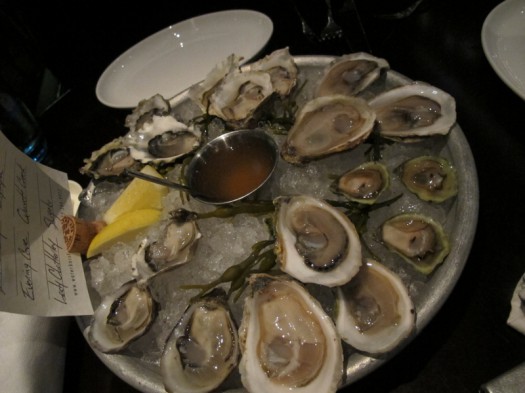 Standouts for me were the Quivet Necks (traditional salty Cape Cod flavor, then really sweet and fruity on the finish), the Evening Coves (sweet cucumber pickle), and the Shigokus. The only way it could have been better is if I'd had Giants tickets (walking distance, after all). Next time.
« PREVIOUS: Oyster Trail #1: Tomales Bay